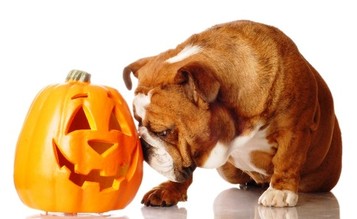 During the week of Halloween, calls to the
Pet Poison Helpline
increase by 12 percent, making it the call center's busiest time of year. Most of the calls involve pets ingesting Halloween candy or décor. If you see symptoms of any of the following dangers contact your veterinarian or Pet Poison Helpline immediately at 1-800-213-6680.
Of all candy, chocolate is one of the most toxic to pets and the darker and more bitter it is, the more poisonous it is. To avoid issues, keep Halloween candy out of the reach of pets at all times. If you think your pet may have ingested chocolate, watch for symptoms including vomiting, diarrhea, lethargy, agitation, increased thirst, an elevated heart rate, and in severe cases, seizures.
Dogs and cats rarely count calories when it comes to eating tasty treats and can gorge themselves on candy if available to them. Large ingestions of sugary, high-fat candy can lead to pancreatitis in pets. Potentially fatal, pancreatitis is inflammation of the pancreas and very painful. It may not show up for two to four days after the pet ingests the candy. Symptoms include decreased appetite, vomiting, diarrhea, lethargy, abdominal pain, and potentially, kidney failure or organ damage.
When pets eat candy, they don't take the time to unwrap it, so they are also ingesting foil and cellophane wrappers which can cause intestinal obstructions. If your pet has ingested wrapped candy watch for signs of not eating, vomiting, lethargy or straining to poop.
Cats love to play with and chew on glow sticks or glow jewelry. While not usually life-threatening, the liquid in these items can cause pain and irritation in the mouth, as well as profuse drooling and foaming at the mouth.
If pets will be around your jack-o-lanterns or candles it's best to go with the flameless variety. Many pets suffer candle burns during the Halloween season.
Crowds, costumes and loud noises can cause your pet to be frightened and possibly run from the safety of your home. If you'll be handing out candy to trick-or-treaters or having a party, it's best to isolate your pets in a room as far away from the action as possible. Dim lighting and either a radio or TV playing will help to keep them calm.
It only takes a little extra effort to make sure Halloween is a fun, rather than frightening holiday for your pets.