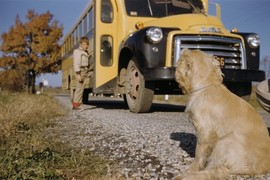 The kids are back to school; new routines are being set; and the ones that may have the most difficulty with all this newness is the dog.

Dogs especially experience sadness when the kids are gone all day. They've spent a summer hanging with their best friends and now it's back to the regular routine. They have to re-learn how to be on their own again.

If Sparky starts to bark incessantly, mope around the house or chew on things he shouldn't it's a pretty good bet that he's suffering from the back-to-school-blues. Now is not the time to punish him for his behavior. You need to help him find his place in the new routine.

Stimulation is the answer. Provide him with new interactive toys, treats hidden in various spots around the house, and more walks. A professional pet sitter / dog walker would be an excellent addition, giving your pup some special time that is all about him. And a day or two at doggy day care might be a good idea as well.

Make regular walks a part of the routine. Perhaps an after-school walk would be a good chore for the kids during the school year. It will also help set the routine to set regular feeding times. Don't be tempted to make up for it with extra treats that could bring on an unhealthy weight gain.

Most pets will adapt to the new routine in a week or so. But if they refuse to eat or remain in bed all day it could be a sign of something more serious and a visit to the vet is required.

Be patient & kind with Sparky and things will get back to normal in no time at all.